Made Without Common Allergens
Organic Pea Protein
Nutritionally Complete
Designed For Easy Digestion
Flows Smoothly for Tube Feeding
Delicious Taste
Why It's Special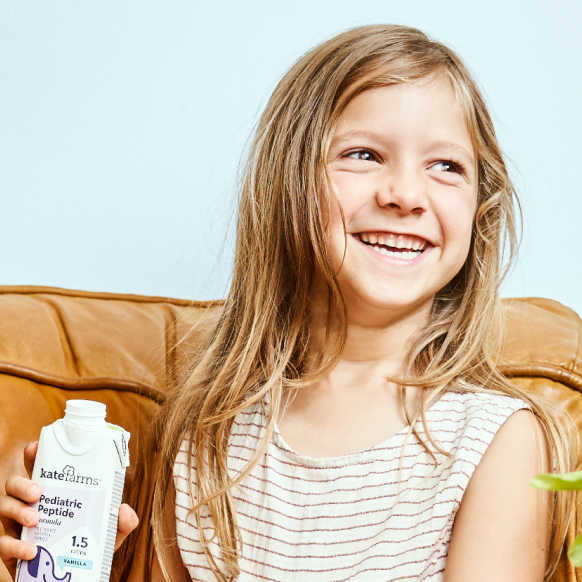 Powerful plant-based nutrients
Phytonutrients as extracts and concentrates sourced from nutrient-dense foods like organic broccoli, green tea, turmeric, acai and more.
Designed for tube feeding
Standard 1.0 flows smoothly through feeding tubes as small as 6.5 Fr without needing to be watered down, making it the perfect formula for tube feeding.
Three delicious flavors
Enjoy as an easy meal replacement shake. Our natural, plant-based vanilla, chocolate, and plain flavors are made without any artificial colors, flavors, or non-nutritive sweeteners.
Made for your needs
A complete nutrition formula suitable for a range of medical and dietary needs.
Compare Formulas
Find the right formula for your nutritional needs.
Standard 1.4


Vanilla

Nutrition Shake


Vanilla

Peptide 1.0


Plain

Calories
455kcal
330kcal
325kcal
Total Fat
19g
12g
13g
Total Carbohydrate
51g
38g
37g
Total Sugars
16g
18g
16g
Protein
20g
16g
16g
% of calories from protein
18%
20
20%
Omega 6:3
3:1
10
3:1
Osmolality (mOsm/kg water)
440
10
290
NPC:N
117:1
10
102:1
Free water
72%
10
79%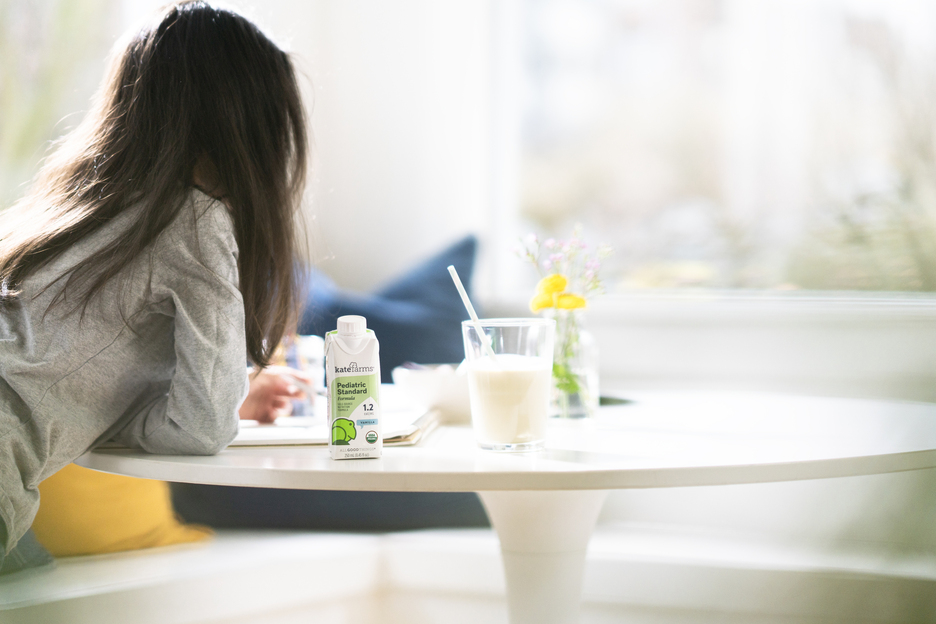 Nutrition & Care in Every Formula
Using the best organic ingredients and focusing on quality nourishment, we make formulas and shakes that deliver the nutrition our bodies need.

It's our goal to provide the benefits of a whole food diet so that people can digest the nutrition they need to feel good and thrive.
Made with love. Loved by many.
Have Questions? We Have Answers!
Are Kate Farms products certified organic?

Yes, all Kate Farms formulas are USDA certified organic.
Can Kate Farms products be used for drinking and tube feeding?

Yes! All Kate Farms products, with the exception of Nutrition Shake, can be used for drinking or tube feeding. For tube feeding, our products flow smoothly in tubes down to a 6.5 French size. For tube feeding, our products (again, with the exception of Nutrition Shake) flow smoothly and without mechanical issues in the following enteral delivery systems: Infinity (by Moog), ePump, Joey (by Covidien), and Connect.
What is the source of protein in your products?

Kate Farms products contain plant-based protein from organic yellow pea. Our standard formulas and Nutrition Shake contain intact pea protein (isolates), and our peptide formulas contain hydrolyzed pea protein (hydrolysates).
What is the difference between the pediatric products and the adult products?

Kate Farms pediatric products provide both micronutrients and macronutrients in amounts which support kiddos ages 1-13, while our adult products provide both micronutrients and macronutrients in amounts which supports age 14+. Additionally, our pediatric products are packaged in 8.45 oz cartons, while our adult products are packaged in 11oz cartons. We recommend talking with your healthcare provider to determine which Kate Farms formula may be best to support your needs.
Customer Service
Our support team and resources are here to help you navigate your health journey.